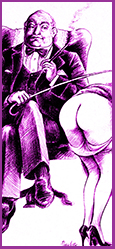 Below are listed the web pages of ladies who will accept a spanking from generous gentlemen. Their inclusion on this list implies nothing about the quality of their services. Many of these ladies are prepared to switch if asked. Switching is where the spankee spanks the client.

The ladies listed here do not normally offer any sexual services. If that is what you are looking for, go to the Escorts page.

Ladies, If you would like your own website listed here, please email spankeefinder@gmail.com for your free entry. If you do not have a website click here to find out how to get a free Spankeefinder web page.
All Limits set by Spankees must be respected. Failure to do so could be an assault
London
South East
South West
Midlands
North West
North East
Scotland
Northern Ireland