---
Miss K Stinger
"What especially turns me on is the cane"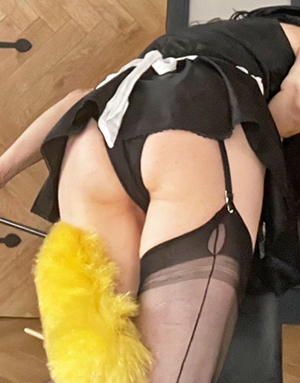 Hello,

Beautiful 5′ 8″ statuesque lady, 40s, with long black hair, invites you to join her for spanking fun at her well-equipped luxury North London apartment. Sessions are tailored to your precise individual needs and can be honed to the point at which your fantasy becomes perfectly reflected in reality.

Here you will find the opportunity to realise any and all of your dreams – all those inner fantasies that have kept you awake at night, sweltering with desire and unfulfilled longing! This is where those longings can be fully realised in the company of an experienced, sympathetic woman who really enjoys spanking games, and who is an expert in finding out exactly what makes you tick and how to bring your desires to vibrant life, regardless of the particular fantasy that may be lurking within you.
If a sub female is what you seek, I can be playfully naughty and coquettish. Sessions are easy and unhurried, there is plenty of time for a cup of tea or coffee – beforehand, to discuss your needs in detail, and afterwards to de-brief. Overall, you will find me personable, friendly and accommodating. I want us to have fun together, and I want you to leave my chambers at the end of an unhurried session feeling fulfilled and that you have genuinely enjoyed yourself.

I go out of my way to provide a truly exceptional service to each and every client. I am flexible and responsive, and I understand that your needs can change. I am ready to adapt my services quickly to ensure your fulfilment.

I adore role-play and am open to any scenario you care to suggest – how imaginative are you? I have a shapely, voluptuous derriere and can take a thorough hand spanking on the bare bottom with nice gentle rubs in between. Followed by a paddle crop and tawse or how about a plimsoll, but above all what turns me on is a substantial application of the cane.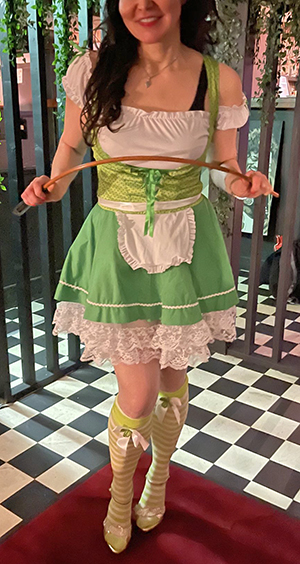 However, I am essentially a switch and love to play games in which we each get our turn in both dishing it out and being on the receiving end.

I can be strict, dignified and icily authoritative;I use a variety of implements and go out of my way to provide a truly exceptional service to each and every client. I am an expert at hand-spanking and have been told that my hand causes more discomfort than the slipper.

I also provide gentle, sensuous caresses between bursts of fierce disciplinary action, and a similar process would take place with the paddle, tawse, riding crop and plimsoll.

As with hand-spanking, I am an expert with the cane and, when I have finished using it on you, you will find that your bottom is lined with neat, evenly-spaced stripes.
For more details and tribute, email Katharina at kk151009@yahoo.co.uk or ring 07923 246816.
For more detail take a look at my website www.misskstinger.co.uk
Katharina xx
This page has been provided free of charge by Spankeefinder. Spankees or Escorts who wish to be listed on Spankeefinder should click on Advice Page. For further information about Spankeefinder just email Peter on spankeefinder@gmail.com