---
Miss Jessica
Smart as a whip, and very deserving of one too!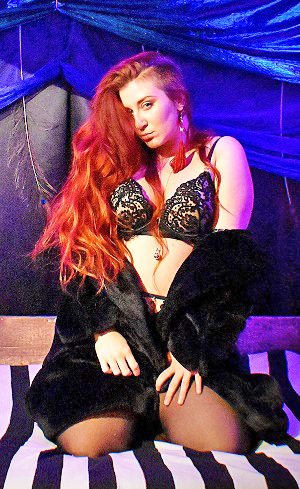 Hello
A very happy gentleman once said:

"Miss Jessica is a sensualist at heart. Quick witted, curious and stunning, she is a submissive switch with a tendency towards challenges and experimentation, who moans and purrs when you land a strike just right. She is as skilled, fun and creative in role play as she is when entirely herself. Her genuine love for spanking shines through."
Are you seeking a highly memorable spanking session? If you prefer your spankee to be intelligent, resourceful, playful and resilient, and a deft hand at roleplay when desired, then perhaps I may be the sensual switchy spankee for you. I am endlessly mischievous, always cheekily digging myself into trouble, ready to be across your lap with a blushed bottom, or touching my toes ready to be caned, and keen to explore your ideas. I have an exceptional mane of bottom-length flame red hair, and a fiery attitude to match. I am tall, and have a curvaceous and supple renaissance figure, with thighs and bottom ripe for spanking. I am an enthusiastic and experienced switchy masochist with a deep adoration for spanking and CP. I have been playing on a variety of scenes for many years, more than 10 now, and have more than a few tricks up my sleeves.
Bring me your fantasies and let's make them happen. I have played with some beautifully outlandish ideas in the past, and enjoy wild experimentation as much as I enjoy the simple sensual delights of spanking alongside a bottle of wine and some flirtatious conversation. Whether it is a dedicated roleplay you seek, or a more relaxed indulgent atmosphere, we can seek satisfaction together. I am open to your dark desires, and am not easily shocked, so if you would like to do something with a little twist on the norm, ask me, and we will see if our interests overlap.
And yes, you read that right. I'm very switchy, and very good at it. I have a rich basket of skills, from playing around with feminisation, rope bondage (I can put you in the air once we know each other a bit better), impact play, sensual domination, sadistic massage, BDSM games and much much more.
I can cater to both experienced gentlemen, spanking newbies, couples and groups for teaching sessions. I will ask a few questions to establish what kind of fun we seek to have together, so that I can craft an exceptional experience for us both.
Mostly I session from a variety of spaces in London, a few domestic spaces, and a boudoir dungeon, although I do also travel when requested. Get in touch with me via email at SeekingMissJessica@gmail.com or via Text/Call on +44 7735 054876. My preference is over email, as I sometimes cannot take calls. My tribute varies depending on the venue, and if we are planning something harder, the level of play.

I look forward to exploring together soon.
Miss Jessica xx
This page has been provided free of charge by Spankeefinder. Spankees or Escorts who wish to be listed on Spankeefinder should click on Advice Page. For further information about Spankeefinder just email Peter on spankeefinder@gmail.com