---
Chloe
Loves to be Spanked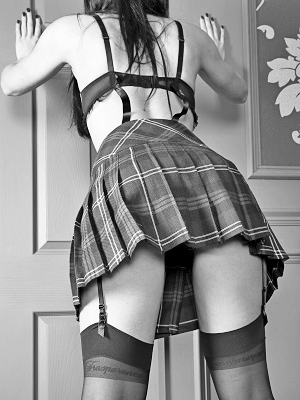 Hello, I am Chloe, a 25 year old submissive who loves to be spanked. I have five year's experience in the spanking scene, attending parties and doing 1-2-1/2-2-1.

I take all implements including the dreaded cane but my favourites are hand spanking over the knee, a good dose of the paddle and I absolutely love the flogger. I have good levels with everything, provided of course that I am well warmed up first. I am happy to be fully sub or dom but enjoy switch sessions the best. Although I am a natural submissive I love dishing it out too, so if you want a good dose of the cane you won't be disappointed.
Whether you want a relaxed, fun session, or specific role play I am your girl. I really love playing a naughty student. I can cater for most scenarios and have lots of outfits including maid, secretary and nurse as well as sexy dresses, lingerie and many more. I will always try my hardest to make the session special for you.
Please note that I do not provide any sexual services.
Although I travel throughout the country, I do many of my sessions at a venue in north Birmingham. There is a school room, lounge, or an extensive dungeon. (Please note that I do not engage in BDSM). I also use other venues around London and Manchester

Please contact me by email at chloeplay@hotmail.com. For further details and bookings call me on 07521 499 625. Please note I do not answer withheld numbers.

I look forward to lots of spanking fun and hope to meet you soon
Chloe XXX
This page has been provided free of charge by Spankeefinder. Spankees or Escorts who wish to be listed on Spankeefinder should click on Advice Page. For further information about Spankeefinder just email Peter on spankeefinder@gmail.com