---
Megan
"I deserve a sound caning"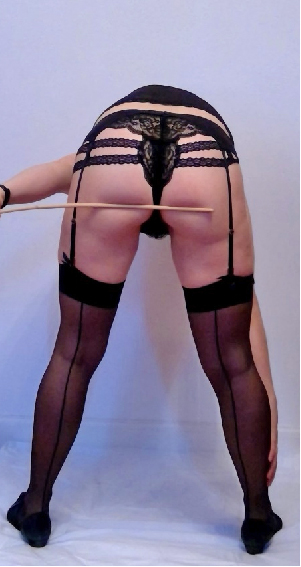 Dear Ladies and Gentlemen

My name is Megan, and I love to be spanked hard. Don't pat the bottom, give it a good caning!

I am 32, university-educated, a curvy size 12, 5ft 4 with mid-length blonde/brown hair and blue eyes, and gentlemen have commented that I have a lovely, spankable bottom. I am in need of some very firm discipline, and I can be your hopeless secretary, lazy student, careless maid, rude neighbour, naughty nurse, disobedient slave and so on; or we can have a session without role play.

You may give me a warm-up spanking with your hand, or paint stripes on a white canvass! I love to be caned, paddled, tawsed, strapped, whipped, slippered, rulered and spanked.

Virtually all girls (apart from me) will ask you to gently warm up and redden their bottom with your hand first. But because a "real" old-fashioned discipline caning hurts ten times more, my fee per session is £500. Also, the cost of booking the venue is £80 in Brighton or £64 in Gatwick. My fee is high because I won't be able to play again for a while after our session.

I have a pretty high pain tolerance, but only when you are accurate. If the strokes land off target then I will either ask you to play more gently or I can wear some clothing on my legs and back. Also, the session will end after a certain amount of bruising. I am happy to be tied up once I get to know you, and happy to go topless, but other than that I do not offer anything other than being spanked, I don't spank others and…
…I definitely do not offer any sexual services.
I live in Brighton and I am happy to travel to Gatwick. I know of a well-equipped, beautiful, private playroom in both locations.

I have a full-time, non-spanking related high-end professional job, so by meeting me you are agreeing to keeping my identity private, and I will do the same for you.
I am free most evenings at 8.45pm (Brighton venue), or 9.30pm (Gatwick venue). To book a session, please could you either call, text or email me, if I forget to check my email for a while then please try my phone:

Phone: 07740 949 603
E-mail: meganbradford@hotmail.co.uk

I look forward to hearing from you …………… Megan
This page has been provided free of charge by Spankeefinder. Spankees or Escorts who wish to be listed on Spankeefinder should click on Advice Page. For further information about Spankeefinder just email Peter on spankeefinder@gmail.com